This post is several months overdue, but I hope you will no less enjoy this interview about one practitioner's first experience of the Kathina festival.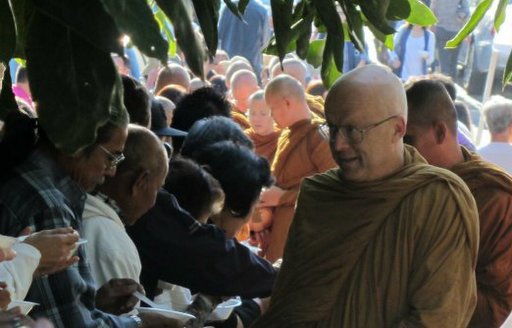 I celebrated Kathina last year with a group of friends at Metta Forest Monastery. Larene is one of these friends. She is a practitioner, artist, teacher, and caring spirit (in no particular order), and I was honored to spend the day in such good company and to be able to interview her about this Buddhist holiday experience.
Who are you?

I am a twenty-something Asian American Buddhist living in Los Angeles county.

What did you do on this holiday?

On this holiday, I went to Wat Metta Monastery with a couple of friends and a couple of other younger students in my Buddhist community. We went the night before the festival to offer help with whatever they needed to get done. On the morning of the festival, we woke up around 5:30am and went to the chanting service and meditation. Later, we helped with whatever needed to be helped with and took a short hike with a couple of other college students, who also came to volunteer and partake in the festival. We participated in the ceremony in which the monks received their robes and later enjoyed all the delicious Thai food that people made. Afterwards, 10 to 15 volunteers helped to break down all the tents and put away all the chairs. I had a great time!

What is the Buddhist significance of this holiday?

I actually was not aware of this holiday previously, because the tradition that I am more familiar with is the Mahayana tradition. I am not sure, but I believe that Kathina is more of a Theravada tradition, or at least, it is the tradition of Thai forest monks. It is during this holiday that Buddhist monks receive a new set of robes, which happens once every year. It is also significant as a symbolic representation of the lay peoples' support of the monks at this monastery. The other significant aspect of this holiday is the festivities in the form of food. Usually, laypeople will prepare food at the monastery under tents that are set up for the holiday. During the actual day of the festival, the lay people will line up with bowls of rice and a spoon; as the monks of the monastery walk down the line of people, each person will put some rice into their bowl, another symbolic gesture of the lay peoples' support. After the ceremony, in which the monks are formally offered the robes, there is a big festival, where the food people bring is shared with everyone.

What does this holiday mean to you?

I attended this holiday because I didn't know much about it, and also because I had heard about it from a friend. I saw this as an opportunity to better know and understand other Buddhist traditions and also as another way to volunteer. Because many tents had to be set up and broken down (in addition to other preparations) for the festival, I basically went to serve with other people.
If you're interested in reading more holiday interviews, you can find them here and here.